Support Financially
Community Centered, Community Lead, Community Funded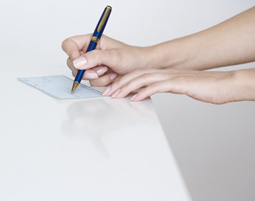 Everything we do at Care Net Pregnancy Center of the EUP is focused on our community. Our Board of Directors is representative of the communities we serve. Our volunteers and staff all have deep ties to our community and our clients all come from our local areas too. Everything we do is focused on serving the Eastern Upper Peninsula and sharing God's love with our clients.
We are proud to say that we are not only community centered, but also community funded. As a 501(c)(3) non-profit organization, we rely solely on donations from churches, businesses, and individuals in our area to provide the funding needed to allow clients free access to our many services. Your partnership with us enables us to continue to provide services to the men and women in our community without charge.
All donations to Care Net Pregnancy Center of the EUP are tax deductible to the fullest extent allowed by law.
How Can You Get Involved?
There are several ways to financially partner with Care Net Pregnancy Center of the EUP. Every dollar brought in is put to use in our community oriented programs. Every donation, even the small ones, can make a big impact!
Approximately 85% of our funding comes from churches and individuals in our community.
Baby Bottle Fundraising
Every year many churches and individuals fill baby bottles with change. This seemingly small project accounts for between 7% and 10% of our revenue for the year. Imagine the change you could make with your spare change!
Special Events
Care Net Pregnancy Center of the EUP hosts three special events each year – opportunities for you to donate and receive updates on how your resources are put to work. Our Spring Banquet, Fall Auction, and Caring for Care Net Sunday provide excellent ways to be a periodic partner with Care Net!
Monthly Partners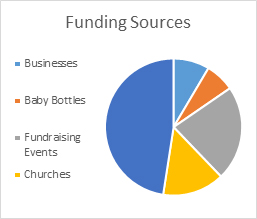 Dedicated monthly donors are the backbone of Care Net. Monthly partnerships start as small as $5.00 per month. $40/month partnerships help sustain the operating budget of the center. Every partnership makes a big impact in the community!
Non-Cash Asset Donations
As a non-profit organization, Care Net Pregnancy Center of the EUP is authorized to receive donations of stocks, bonds, and other securities and to give the donor a tax advantage receipt for those donations. For more information on how donation of stocks or other assets that fall into capital gains tax categories may benefit you, please contact the Center.
Estate Planning
Leave a legacy of life in the EUP by planning into your will and end-of-life documents a special gift to Care Net Pregnancy Center. Have your financial planner contact Care Net for the information they need to include that gift.